What is Physical Therapy?
Discover The Top 10 Reasons To Go To PT
What is Physical Therapy & Do You Need It?
Working with a physical therapist can be the equivalent of seeing several other medical professionals at once. PTs can diagnose musculoskeletal issues like an orthopedic physician, provide joint mobilization similar to a chiropractor, treat soft tissues and muscles with techniques similar to a massage therapist, and provide personalized exercises like a personal trainer. Physical therapy is your one-stop shop for all things pain related.
In the words of the American Physical Therapy Association (APTA), physical therapists (PTs) are movement experts. We provide hands-on care, prescribed exercises, and patient education to improve your quality of life. Our goal is to help you enjoy your body's full range of movement and find freedom from pain.
Top Reasons to Visit a PT
Physical therapists see your body differently than medical doctors. Our rigorous training in the body's musculoskeletal system allows us to diagnose functional issues that many physicians overlook. If you are dealing with any of the following conditions or health concerns, we can create a plan of care for you:
Treat or manage chronic pain

Prevent surgery or a disability

Resolve movement or dexterity issues

Prevent or recover from a sports injury

Improve your bowel or bladder control

Rehab after surgery, stroke, accident, or injury

Recovery from giving birth or strengthening your pelvic floor

Improve your balance and reduce your risk of a slip or fall

Manage a chronic illness like arthritis, heart disease, or diabetes

Adapt to an artificial limb or an assistive device like a cane or walker
Within just one session, a skilled physical therapist can help you find relief from pain. 
At ReNew, our treatment process begins with an initial 75-minute evaluation. During this time, we'll listen to you and work with you to identify the pain syndrome or dysfunction you need treatment for.
We'll develop a personalized treatment plan for you based on our evaluation. We'll waive our evaluation fee if we can't reduce your pain during your first session. Our goal is to provide our patients with results-driven physical therapy that gives you the freedom to live life without pain or mobility problems.
If your health condition requires treatment beyond the scope of physical therapy, we can refer you to a specialist.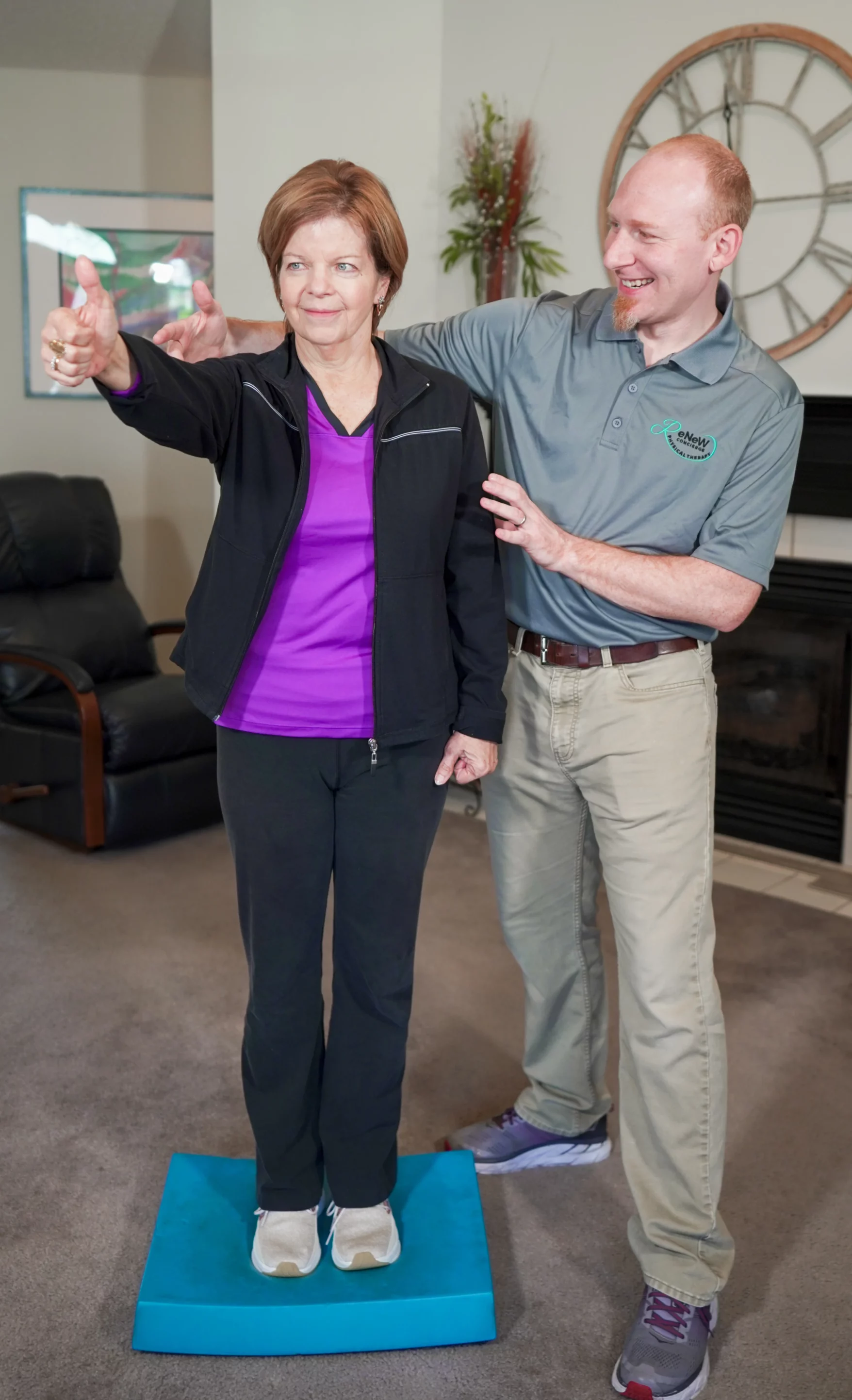 Find Freedom from Pain | Book an Evaluation
What's The Difference Between a Medical Doctor & Physical Therapist?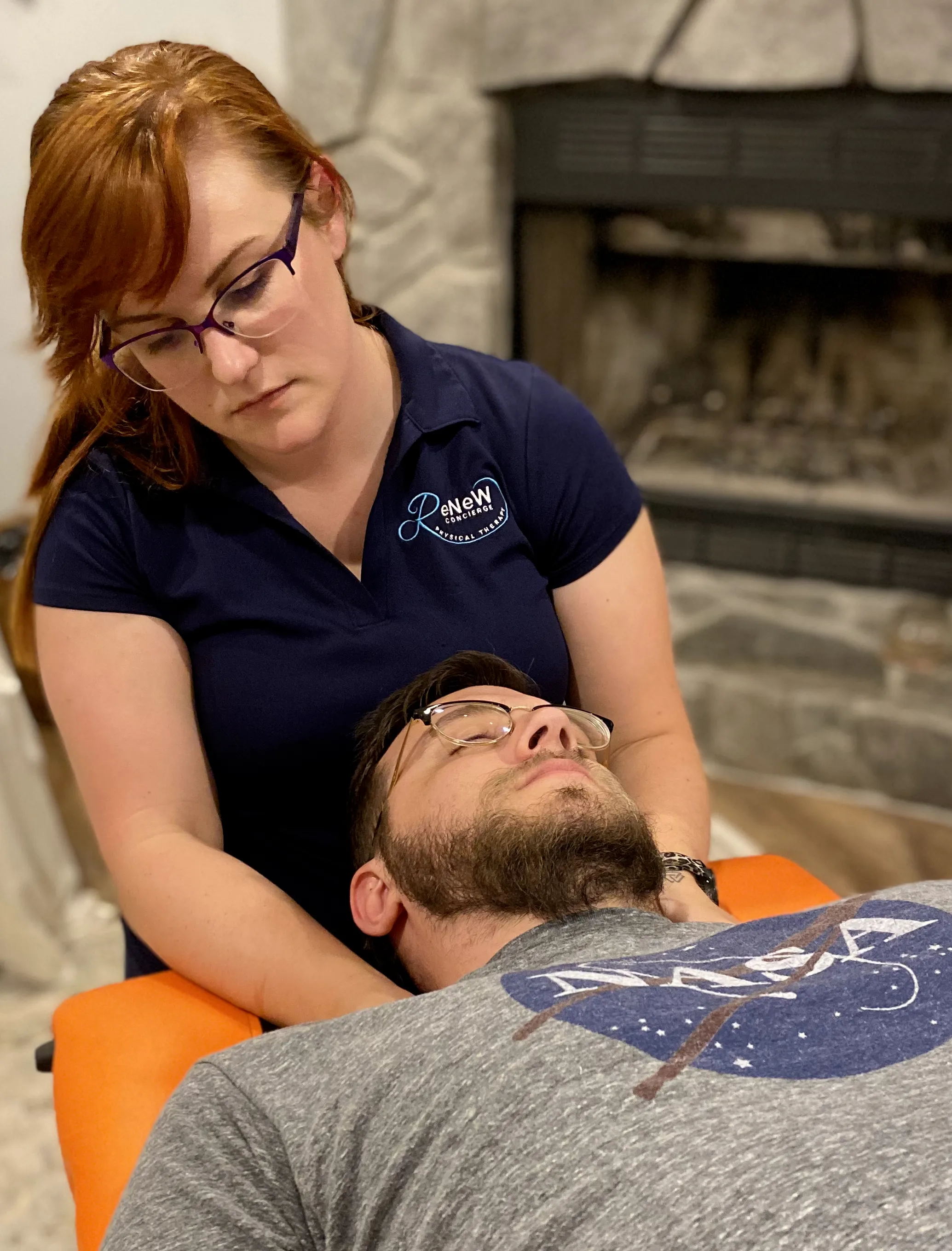 While physicians see treatment through the lens of medicine and surgery, physical therapists see a bigger picture. We have more tools in our toolboxes to treat pain, resolve dysfunctions, and prevent injuries than medical doctors. We are the premier musculoskeletal and movement experts in the medical community. 
Over the past two decades, the scope of physical therapy has expanded. It now includes a wide range of treatments for a growing number of conditions. Training for PTs has evolved as well. In the past, you could obtain a license in physical therapy with just a bachelor's degree. Today, physical therapists complete doctorate programs, internships, and advanced studies in order to treat patients. 
These changes in the field of PT, along with improvements in diagnostics and treatment protocols, have resulted in more independence from primary healthcare providers and surgeons. The evolution of physical therapy has also led to better outcomes for patients. 
If you are suffering from chronic pain, mobility issues, or a dysfunction (like trouble controlling your bladder), we can help! We can discern the difference between functional issues that can be corrected through therapy and medical problems that require medicine or surgery. We strive to treat the source of the problem instead of just treating the symptoms.
Our team at ReNew is proud to be a part of this new era of physical therapy. We want to help you discover the benefits of working with a PT one-on-one. So, instead of waiting 1 – 2 months to see a physician, schedule an evaluation with us today!